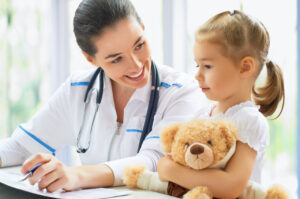 What Makes a Pediatric Care Specialist Different from a Doctor?
Lots of families trust their family doctors, and they should because of the relationships that families build with their medical practitioners through the years of care. This being the case, why would you want to take your child to a pediatric care specialist? Let's look at the pros and cons of using pediatric care specialists vs. family doctors.
Pediatricians have invested in specialized medical training via a 3-year residency. This training allows them to understand what developmental patterns they must look for in healthy and sick children in order to treat and/or prevent medical conditions and illnesses in children.
Family doctors have a generalized residency, and while they have excellent knowledge of medical conditions, they may or may not have the necessary experience to monitor developmental patterns in your child. They may not be as adept at spotting developmental patterns that can hinder your child's progress.
Children often need to feel comfortable and safe as many of them are leery of adults other than their parents. Pediatric care specialists have spent many hours learning how to interact with children and know how to help a child feel cared for, even when they need to get their shots. They will often take more time with your child in order to make you and your child feel reassured.
A pediatric care specialist's office will also create a kid-friendly environment that will make your child feel at ease. Often, these offices will have familiar toys and books and sometimes even a fish tank or movie playing that can help distract a child's mind from the purpose of a visit, helping them to relax.
We want to give your child the specialized treatment they deserve. Call our office to set up your well-child check today!